SKILL DEVELOPMENT TRAINING
Player development is the Number One priority at Eastside Cleveland Volleyball. Whether it is helping a player earn a scholarship, earn a starting spot or making an 8th-grade team, Eastside Cleveland Volleyball will help you take the next step! We are dedicated to helping you achieve your goals, not only as an athlete but also in life. We care about your personal goals, both on and off the court.
Skill Development of all our Eastside members is our number one focus. No matter what level club, DIVA, EYA, or program you are in, our promise is to make you better by helping you build a solid foundation of skills. Teaching is our focus, quality touches, performing the skill the correct way.
We have camps and clinics to continue your skill development over the summer and prepare you for your fall seasons! Check out all we have to offer this summer: CLICK HERE
SUBSCRIBE TO OUR MAILING LIST
Wednesday, June 2
Jr. High Summer League
Under Programs
6-8PM
Eastside
Monday, June 5
Pre-Volleyball Movement Training
Eastside Youth Development
2-3PM
Eastside
Thursday, June 10
Jump Training
Under Programs/Fitness
1-2:30PM
Eastside
Tuesday, June 29
EYA- Tiny Tots
Eastside Youth Develpment
5-6PM
Eastside
June 14
Summer Elite Camps
Under Programs
9-11:30/9-12PM
Eastside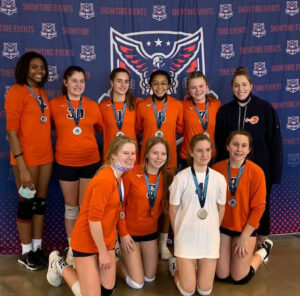 14.1 National team and Coaches Ellen and Marissa
Fantastic job by our 14.1 team and coaches Ellen and Marissa at the Queen of the Coaster over the weekend. They brought home silver medals, finishing 2nd overall and they keep growing as a team. WELL DONE!!
Eastside Volleyball SOCIAL WALL
Click on the tabs to change the social feed